Using the community – here's what there is to know 👇:
I'm new here. Where do I start?
I'm glad you asked. Update your profile first. Everyone likes to know who they are speaking to and...fun fact alert...by adding more information to your profile, you are more likely to receive better and quicker replies from other Mewsers.
Start with your profile picture,

(did you know posts with a profile pic actually get 2x as many responses?!)

Add some info in About Me

Identify your role, company and location etc.
Now head to the How to use this community - best practice article which explains some standard practices so everything runs smoothly around here.
Who is this community for?
Anyone who comes across Mews in their working week, whether at the front-desk or in the CEO's office, at a boutique hotel or global chain, based anywhere from Scotland to Timbuktu. Everyone is very welcome here, to ask questions, start discussions, and give feedback. We are all equal when we need help and we've all had to learn, one way or the other. 
Are there specific guidelines to posting in the Community – what are they?
Good question – yes! 
Before you hit on the Ask the Community button, have a quick search for the content that you're looking for. The answer may already exist in a help article or in a previous community conversation.
Fill in the Ask the community form and select either:  Question: When you need a solution for your question or problem; Conversation: When you want to share something or involve the community in a discussion 
Create a short but descriptive title. It should summarize what your post is about. This way other users can see directly if they are able to help you.
Describe what your post is about. Describe your issue as detailed as possible. Other users can help you better when they know what you are trying to do (and where you do not get any further). 
Choose the relevant category to post your question/conversation.
Add images or videos if this helps explain things better. A picture says a thousand words! 
Is this community multi-lingual?
Not yet! The content on this community is primarily in English.
If you prefer to communicate to other users here in French, you can do so . We have a dedicated group available here that you can join.
Is there an app for this community?
No. To use this community on your mobile device, you'll need to access it via your web browser.
How do I know if my question is for the Community or for Mews Support?
If Mews is not performing as expected and you're confident it's outside of your control, it's best to raise a ticket in the first instance. If you're not sure and you're looking for guidance, this community can help you out.​​​​​​
What's in it for me if I'm taking the time to answer other users' questions?
Other than a warm feeling of self-satisfaction,😊, the more you get involved with the community, the more points you'll achieve and the higher up the ranks you'll go to becoming a community expert. 
But, aside from that, contributing and being active in the community is what we're all here to do.
Can I edit/delete my own post?
You won't be able to delete your or anyone else's post but you can message me, @Sarah, if you need to request this. Editing, no problem, just navigate to the 3 dots at the bottom of your post and you can edit from there.
I need to update my username but can't. Help!
You can't edit your own profile name. If you need to change it, please reach out to @sarah  via the community private messages.
Where do I go to change my password?
Click on your avatar, top right of any page, go to Settings > Password
Can I contact another user privately in the community?
Absolutely. We're here to connect with each other 😊 Visit the user's profile page and you can send them a direct message from there.
How do I get notified about new questions, discussions and content?
Each time when you create a new post you will automatically be notified via email when that post receives a reply. 
You can also subscribe to categories and groups to make sure you don't miss out on any new topics added. Open the category and then you'll see a button that says Subscribe. 
To unsubscribe, you will need to click the same button that will say Unsubscribe.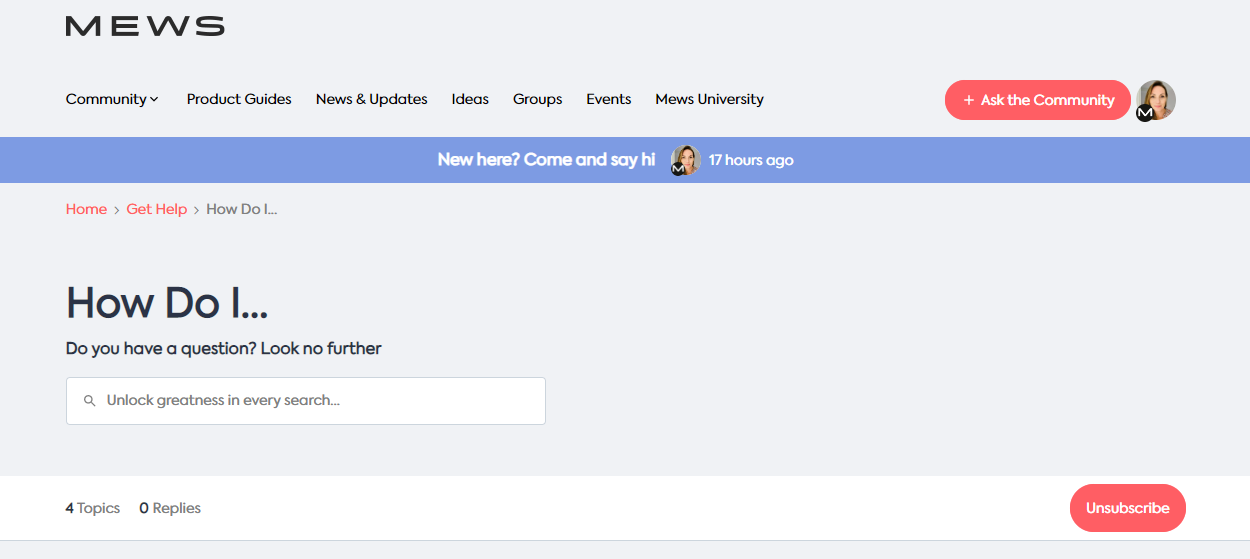 I have posted an idea – can I get other users to vote on it via the community?
Yes, we have our Ideas Forum where we welcome other users to vote on the ones they would also like to see brought to life. If you'd like to post a link to your idea in the community, go for it, and please encourage others to add any comments and feedback in the Ideas Forum, not in the community, just to keep things tidy.
What does Best Answer mean at the bottom of my post and how do I use it? 
Clicking best answer means that out of several responses you may receive on your question, one comment will have the most relevant solution. Marking that answer as the best one will help others that are looking for a solution to the same question find the most obvious answer more easily. Not only that, you receive points when you select a best answer to your question. And if someone marks your answer as a best answer to their question, you get double the points! ⭐
What is the difference between a question and conversation when I'm creating a post?
When clicking on 'Ask the Community' you have the option to select Question or Conversation.
Select question if you need a solution to your question or problem.
Select conversation if you'd like other points of view, best practice help, feedback or to start an open discussion.